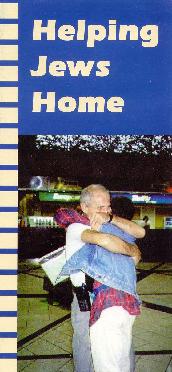 Hjelp Jodene Hjem
Help Jews Home — Norway
Some documents describing HJH activities
Help Jews Home (HJH) is a Norwegian initiative and a unique project working since 1990 and aimed at helping Israel receive new immigrants from around the world.
Why?
— Because Norwegians have always supported Israel.
— Because the struggle for the Jews in USSR has been intense within the political and legal ar-eas of Norwegian society. We must help them before it's too late — again.
— Because the battle against anti-Semitism which has blossomed after the fall of the USSR is a battle which affects us all. There is a ghost passing through Europe.
— Because the Jews deserve help after more than 70 years of communist oppression.
— To spread information and help Israel with practical measures for all immigrants.

How?
— Christians and Jews have for the first time united in a direct collaboration. 11 organizations and denominations of Norway have raised more than 6 million USD.
— This has been accomplished with the help of brochures, flyers, video productions, almanacs, radio spots, and nation wide presentation/lecture campaigns.
— The funds are channeled through well established Israeli organizations.
A few of the projects supported by "Help Jews Home"
In the former Soviet Union (aid to emigration initiatives):
— In addition to Movement Without Frontiers HJH is supporting: